Data Last Updated: November 1, 2022
U.S. ZIP Code Database
What is a ZIP Code Database?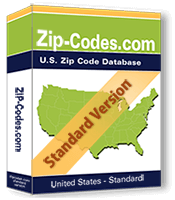 Our ZIP Code Database is a listing of all U.S. ZIP code data put into row and column format for easy use and manipulation. With over 80 unique fields of information and every ZIP code in the United States, it virtually gives you an unlimited number of ways to analyze all the U.S. Census demographic and ZIP Code list information.
Our ZIP Code lists are a great tool for marketing, building websites, demographic analysis, store locator, and general analysis.
Use ZIP Code data for easy lookups and data validation
Current Population by ZIP Code in our U.S. Business database
2010 Census Data included in Deluxe & Business
All Prices are PER YEAR - Not Monthly/Quarterly
All purchases come with MONTHLY updates
Multiple Formats: Access, Excel, CSV, and SQL

Compare ZIP Code Database Versions
Multi-County
Edition

$179.95/Yr.

Business

$89.95/Yr.

Deluxe

$49.95/Yr.

Standard

Terms of Service
Terms of Service
Terms of Service
Download Sample
Download Sample
Download Sample
Only the Best For You:

Immediate Download

1 Year Subscription with Monthly Updates

Microsoft® Access (.MDB)

Microsoft® Excel (.XLS)

Comma-Delimited (.CSV)

SQL Data File (.SQL)

Free FTP Access

Free Radius Finder Application

100% Money Back Guarantee

Free Technical Support

Data Fields & Columns:

Zip Code

1

City

1

State

1

Primary County

1

Area Code

2

City Type

1

City Alias Abbreviation

1

City Alias Name

1

Latitude

2

Longitude

2

Time Zone

2

Elevation

3

State FIPS

1

County FIPS

1

Daylight Saving

2

Preferred Last Line Key

1

Classification Code

1

Multi County Flag

2

City Alias Code

2

Primary Record

2

Mixed Case City

1

Mixed Case City Alias

2

State ANSI Code

4

County ANSI Code

4

Facility Code

1

Unique ZIP Name

1

City Delivery Indicator

1

Carrier Route Sortation

1

Finance Number

1

City State Key

1

Population

5

Households per ZIP Code

5

White Population

5

Black Population

5

Hispanic Population

5

Asian Population

5

Hawaiian Population

5

Indian Population

5

Other Population

5

Male Population

5

Female Population

5

Persons per Household

5

Median Avg House Value

6

Median Income Per Household

6

MSA Code & Name

6

PMSA Code & Name

6

CSA Code & Name

6

CBSA Code & Name

6

CBSA Type

6

CBSA Division Code & Name

6

Region

6

Division

6

Mailing Name

1

All Counties

1

Median Age

5

Male Median Age

5

Female Median Age

5

# of Businesses

6

Q1 Payroll

6

Annual Payroll

6

# of Employees

6

Employment Flag

6

County Growth Rank

2

2010 Housing Units

2

2011 Housing Units

2

Number Increase in Units

2

% Increase in Units

2

CBSA Population

6

CBSA Division Pop.

6

117th Congressional District

1

117th Congressional Land Area

6

# Residential Mailboxes

1

# Business Mailboxes

1

Total Delivery Receptacles

1

Current Population

2

Multi County Data

2

Land & Water Area

6

Box Count

1

SFDU

1

MFDU

1

ZIP Intro Date

2

Alias Intro Date

2

SSA State County Code

NEW!

7

Medicare CBSA Code

NEW!

7

Medicare CBSA Name

NEW!

7

Medicare CBSA Type

NEW!

7

Market Rating Area ID

NEW!

7
Also Includes:

Multi County Data

1

Expanded Census 2010 Data

5

2016-2020 Census ACS Data

6

Place FIPS Data

6
Place FIPS Data:

ZIP Code

6

State

6

State FIPS

6

Place FIPS

6

Place Name

6

Place Type

6

County

6

Func Status Code

6

Func Stat Text

6

FIPS Class Code

6

Geo ID

6

Calculated Population

6

Housing Unit Count

6

Total Record Area

6

Land Area

6

2010 Population

6

Housing Units of ZIP

6

Total ZIP Area in square meters

6

ZIP Area Land in square meters

6

2010 Place Population

6

Place Housing Units

6

Area of Place

6

Land Area of Place

6

Pop % to Record

6

% of Housing Units to ZIP

6

% of Record area to ZIP area

6

% Record Land to ZIP Land

6

% of Place to Total Pop.

6

% Housing Count to Record

6

% Area of Place to Record

6

% Land Place to Record

6

Business

$159.95/Yr.

Deluxe

$79.95/Yr.

Standard

$39.95/Yr.

Download Sample Business
U.S. ZIP Code Database
Download Sample Deluxe
U.S. ZIP Code Database
Download Sample Standard
U.S. ZIP Code Database
Why trust our ZIP Code Database?

A lot of companies make claims that they are the best but we truly feel no other Zip Code provider provides nearly the quality of data and support as we do. We've been in operation since 2003 and have an extensive customer list of fortune 500 companies, individuals and small businesses. We also answer our phones. Seriously, we do not hide. Call us at 1-800-425-1169. ZIP-Codes.com was the first to offer an unconditional money back guarantee because we know our ZIP Code Database quality is superior. We are not just licensees of the USPS, we work directly with them and they license data back from us. We also work directly with other data vendors such as Pitney Bowes. Quality and service are our #1 priorities. But do not just trust us.
Testimonials
Does your ZIP Code Database contain ZCTAs?
No. To explain, you must understand what a ZCTA is. ZIP Code Tabulation Areas (ZCTAs) are generalized areal representations of United States Postal Service (USPS) ZIP Code service areas. ZIP Codes are not true areas, but rather a collection of mail delivery routes. They exist solely for the expedient delivery of mail and they change as the needs of the USPS change. Most people think of ZIP Codes as a stable geographic area, but they are not. The U.S. Census aggregates data based on defined geographic regions and cannot use true ZIP Codes as a geographic entity. Thus, ZCTAs were created to differentiate between the U.S. Census region and the USPS true ZIP Code area. They are only changed every 10 years (with a new decinnial census release) and diverge fromt he true ZIP Code area over time.
Many companies will use ZCTA data released by the U.S. Census and claim it as the true ZIP Code Area. They will do this and claim "it's close enough for most needs". ZIP-Codes.com takes data quality serious, and "close enough" just is not good enough. We license the true updated ZIP Code data directly from the USPS and always have the true ZIP Code Boundaries as the changes are made. Some data fields, such as Census Population data, are only available at the ZIP Code Tabulation Area, but these will always be clearly labeled as such.
What Formats are your ZIP Code Database in?
The ZIP Code Database comes in 4 different file types, all of which are made available to you immediately after purchase. You can download the ZIP Code Database in Access, Excel, CSV, and SQL for quick and easy importing into anything you need. For SQL, all table creation scripts are already prepared for you. You can download the database in all formats as many times as needed throughout your subscription. Our ZIP Code radius Finder application and indurstry leading technical support as also included at no charge.
We also provide FTP Access (free) in order for you to automate the delivery of the database every month as well as a ZIP Code API (separate license) for programmatic access.
How many types of ZIP Codes are there?
The U.S. Postal Service maintains 4 distinct types of ZIP Codes, known by their Classification Code:
<BLANK>: General. Used for general mail delivery.
P: P.O. Box. Used for mail deliveries to contract mail boxes only.
U: Unique. Used for large volumes of mail. Ex: Bank of America, Berkeley, IRS.
M: APO/FPO Military. Used for mail to service men and women stationed overseas.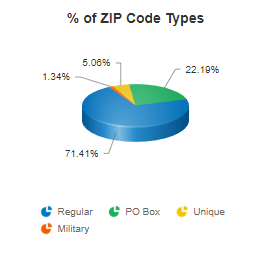 The ZIP Code Database contains a 'Classification Code' column indicating each ZIP Code type by its letter. This allows you to select only the exact ZIP Code types you need or check if a provided ZIP Code has special limitations (most companies cannot ship to Military ZIP Codes).
ZIP Codes are not Geographic Divisions
Most people think of ZIP Codes as the last piece in geographic divisions: Nation > State > County > City > ZIP Code. This is not true. ZIP Codes were created exclusively for the expedient delivery of mail with mail routes designed to best suit the needs of the USPS. ZIP Codes do not always adhere to national or local geographic boundaries and limits.
ZIP Codes are not required to observe City, County, or State boundaries when those boundaries interfere with a mail carriers route. To put it in perspective, imagine being a postal employee placing mail in mailboxes down a long street. It would be highly inconvenient to stop and turn around due to an imaginary line.
ZIP Codes are Not Cities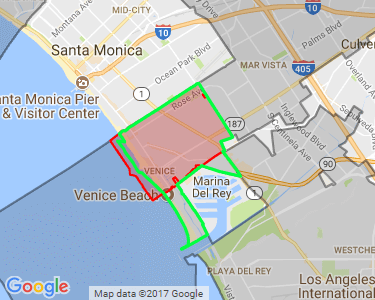 ZIP Codes have nothing to do with cities. While a ZIP Code has a city name, it is to reference the area it serves. A ZIP Code may also have names for other towns, villages, or well known neighborhoods. For example, ZIP Code 90291 is for Venice, CA. Venice is a residential, commercial, and recreational neighborhood with a statistically significant population of over 28,000 and located within the city limits of Los Angeles, CA. Even the ZIP Code boundary for 90291 does not match the neighborhood boundary for Venice, CA that is generally accepted. It is not possible to compare data for ZIP Code cities with data compiled at the city municipality level, because the boundaries that constrain each are very different.
The map to the left illustrates the disparity between boundaries. Los Angeles City Limits are shown in gray, the Venice Neighborhood Boundary in green outline, and the 90291 ZIP Code Boundary in red.
ZIP Codes that exist outside of city limits will likely have a city name of the larger area that it serves. Towns, Villages, and other well known places might be placed in the City Alias column for identification. Each record has a "MailingName" column that indicates if this name is acceptable for mailing purposes.
Do ZIP Codes Cross County Lines?
Yes. In fact, over 20% of all ZIP Codes cross county boundaries. Our ZIP Code Database indicates this with the 'Multi County' column. Any ZIP Code marked with a Y value indicates that it covers more than one county. The Business version offers a separate table detailing all counties a ZIP Code covers. The 'primary' county assigned to each ZIP Code is usually based on the part that receives the highest volume of mail. ZIP Codes cross state lines as well if needed, but this is much rarer. As with cities, you cannot compare data for ZIP Codes in a County with County data because the boundaries for each do not match.
What information is included in the Census American Community Survey?
The Census American Community Survey data in our Business Database includes over 500 fields of data taken from multiple topics including: Education, Households, Marital Status, Employment Status, Occupation, Housing Occupancy, Sex and Age, Race, and Voting Age.
The American Community Survey (ACS) is an ongoing survey that provides data every year -- giving communities the current information they need to plan investments and services. The ACS covers a broad range of topics about social, economic, demographic, and housing characteristics of the U.S. population.
This data is taken from the 2016-2020 5-Year estimates for each ZIP Code in tables DP02, DP03, DP04, and DP05. Included documentation details the fields available and information about how the data was collected. The 5-year estimates from the ACS are "period" estimates that represent data collected over a period of time. The primary advantage of using multiyear estimates is the increased statistical reliability of the data for less populated areas and small population subgroups.
Why is this ZIP Code not listed in your database?
"Why is this ZIP Code not listed in your database? We found it in some website or a customer reports it as being valid." We get this question quite frequently and every instance is investigated to be 100% sure. But the answer is nearly the same every time. This ZIP Code is no longer valid. Perhaps it was at one time, but it is no longer an active ZIP Code. The USPS is constantly changing ZIP Codes to match their current delivery needs. ZIP-Codes.com is a licensed distributor of the USPS and receives monthly updates from the USPS. Other websites do not adhere to the same data quality standards we do. Customers may have had a ZIP Code at one time but missed the notification that it has changed.
If you feel a ZIP Code is valid but not listed on our database, you can use the USPS "Lookup a ZIP Code" to check for yourself at https://tools.usps.com/zip-code-lookup.htm?citybyzipcode. If the USPS reports it as invalid and you believe this is an error, please contact us and we will research it.
Why aren't ethnicity populations adding up to the total population for the ZIP Code?
From 1790 to 1950, Census takers themselves determined the race of the Americans they were counting. Those Census takers used their own rules and perceptions to classify Americans into the single racial category they deemed appropriate. Obviously, there were flaws in this approach. Beginning with the 1960 Census, Americans were allowed to choose their own race. There were further changes in the 2000 Census, Americans had the ability to identify with more than one race entirely. The 2010 Census alone had 63 possible race categories. 6 for individual races and 57 for combined races. Over 9 million Americans chose more than one racial category in 2010 alone which was 2.9% of the population.
Because of the multi-racial identification aspect to the Census, the sum of the ethnicities will not equal the total population for a ZIP Code. A person can only be counted once for the total population. If that individual then selected both White and African American, they would then be counted once for each ethnicity. Since the person claiming multiple races is counted twice in the individual racial categories, they would then be counted twice when adding the races together for a sum total. This would not match the actual population due to its counting of that individual only once. The same sum issue applies to all levels of census data (City, County, State).
To learn more about the Census and the Race/Ethnicity questions, please visit https://www.census2020now.org/faces-blog/same-sex-households-2020-census-r3976
When I add up all of the population in the database, why doesn't it match the total on the Census website?
When you add up the populations for all ZIP Codes, it will not match the national population count. This effect is known and has many reasons why. The primary issue with this method of comparing data is that not everyone lives in a ZIP Code. ZIP Codes are created for the expediate delivery of mail. If a person lives 20 miles from a USPS location in rough terrain, the USPS will not deliver mail to them. The person would essentially live in no ZIP Code at all. The population sum at the ZIP Code level would not count these individuals, but they still exist. Higher demographics levels would be able to include this individual however, such as County and State summary levels.
Another factor affecting the ZIP Code population sum is that the Census does not count incarcerated individuals nor those in nursing homes. These people exist and are counted in population summaries at the County and State level, but they are not always residents of that explicit ZIP Code.
References