Data Last Updated: November 15, 2022
Canadian Postal CodeOM Database
What is a Postal CodeOM Database?
A set of data put into row and column format for easy use and manipulation. With over 30 unique fields of information, it virtually gives you an unlimited number of ways to analyze all the Canadian Postal CodeOM information.
We are licensed from Canada Post to sell this data
Unlimited users and downloads
1 year of access with monthly updates
Immediate download upon purchase, no shipment required
Multiple data formats - Excel, Access, CSV (comma delimited)
The Business version contains the data for the Postal Code Conversion File (PCCF) which connects Postal Codes to Canadian Census areas.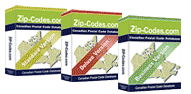 Compare Postal CodeOM Database Versions
$499.95/Yr.

Business

$279.95/Yr.

Deluxe

$169.95/Yr.

Standard

Terms of Service
Terms of Service
Terms of Service
Download Sample
Download Sample
Download Sample
Only the Best For You:

Immediate Download

1 Year Subscription with Monthly Updates

Microsoft® Access (.MDB)

Microsoft® Excel (.XLS)

Comma-Delimited (.CSV)

Free FTP Access

Free Radius Finder Application

100% Money Back Guarantee

Free Technical Support

Data Fields & Columns:
Canadian Postal CodeOM 1

City

1

Province Abbr

1

Area Code

2

Latitude

2

Longitude

2

Province Name

2

City Flag

1

Time Zone

2

Daylight Savings

2

Elevation

2

Population

3

Private Dwellings

3

Area Name

1

Street Name

1

Street Type

1

Street Dir Code

1

Municipality Name

1
Also Includes:

Accent Data

1

Municipality Data

1

Alternate Street Data

1
Postal Code Conversion File:
Postal Codes are assigned to each area below, if applicable, with data tables providing additional information.

Census Metropolitan Area

3

Census Division

3

Census SubDivision

3

Federal Electoral District

3

Designated Place

3

Economic Region

3

Census Dissemination Area

3

Census Consolidated Subdivision

3

Census Tract

3

Population Centre

3

Business

$499.95/Yr.

Deluxe

$279.95/Yr.

Standard

$169.95/Yr.

Download Sample Business
Postal Code Database
Download Sample Deluxe
Postal Code Database
Download Sample Standard
Postal Code Database
The Lat/Lon coverage is approximately 99%. The latitude/longitude data for Postal Codes comes from a crowd sourced system. Canada Post does not release this data and therefore there are no official coordinates for these postal codes directly from the source. There will be some inaccuracies in the data but it is the best data available while keeping the cost of the database reasonable. As mistakes are found, they are corrected daily from the crowd sourcing.
Do you have 3-digit postal codes?
Yes and no. Our database contains every 6 character Postal Code as maintained by Canada Post.
The first 3 characters of a Canadian Postal Code are known as the FSA (Forward Sortation Area). The FSA is a geographical unit where all postal codes within that FSA are nearby.
K1A is an example of an FSA, which is a letter followed by a number and then another letter. The first character indicates the province the FSA is in. The number in the FSA indicates whether an FSA is based in a rural or urban area. A 0 is used for rural areas (where it covers more actual land area), while all other numbers indicate an urban area. The second letter is also indicative of the coverage area and can represent a rural region, entire medium sized city, or a section of a major metropolitan area.
ZIP-Codes does not maintain a list dedicated for listing all FSA's, but the 3 character FSA is provided as a column for each record in the full Postal Code Database
Why is this postal code missing from your database?
Canadian Postal Codes typically represent a limited number of delivery points (a few houses, or several roads in more rural areas). As areas grow or shrink in population and mail delivery, Canada Post will adjust the Postal Codes and which delivery points they service. It is quite common for several Postal Codes to either change or be retired each month.
If you have a Postal Code that you feel should be in the database but is not, it is very likely that Canada Post has since changed or retired it. You can verify the correct postal code for a specific address using the Canada Post Find a Postal Code Tool. If you still feel a missing Postal Code should be include, please contact us so we can verify with Canada Post.
Do you have a file showing only the changes for the month?
Unfortunately, no. There is no file showing either a percentage of changes nor listing only the records which have changed. Canada Post does not provide this kind of reference file and only publishes a complete list of Postal Codes every month.
Portions of data provided by and © Canada Post 2022. Zip-Codes.com is a non-exclusive licensee of Canada Post.