Canadian Postal CodeOM Database
What is a Postal CodeOM Database?
A set of data put into row and column format for easy use and manipulation. With over 30 unique fields of information, it virtually gives you an unlimited number of ways to analyze all the Canadian Postal CodeOM information.
We are licensed from Canada Post to sell this data
Unlimited users and downloads
1 year of access with monthly updates
Immediate download upon purchase, no shipment required
Multiple data formats - Excel, Access, CSV (comma delimited)
The Business version contains the data for the Postal Code Conversion File (PCCF) which connects Postal Codes to Canadian Census areas.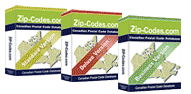 Purchase & More Information
For more information on our Canadian Postal CodeOM Database as well as purchasing, please visit our desktop page.
Visit Desktop Page
Data Levels include:
Canadian Postal CodeOM

City

Province Abbr

Area Code

Latitude

Longitude

Province Name

City Flag

Time Zone

Daylight Savings

Elevation

Population

Private Dwellings

Area Name

Street Name

Street Type

Street Dir Code

Municipality Name
Postal Code Conversion File
Census Metropolitan Area ID

Census Metropolitan Name

Census Metropolitan Type

Census Division ID

Census Division Name

Census Division Type

Census SubDivision ID

Census SubDivision Name

Census SubDivision Type

Statistical Area Classification

Consolidated Subdivision Name
Also Includes:
Free Radius Finder Application

Accent Data
Municipality Data
Alternate Street Data