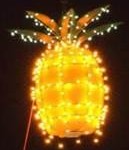 Tired of  watching the ball drop at midnight? Why not watch fruit drop instead?
In the Hawaiian ZIP Code 96789, a Pineapple drops at 7pm, which coincides with the ball dropping in Times Square. Looks like a fun family night out with live music and entertainment. It's great for those who do not want to stay up late.
You can watch a Peach drop in ZIP Code 30303, an 800 pound peach to be exact. At this Georgia event there is live music, carnival rides and fireworks.  It's a whole days worth of family fun.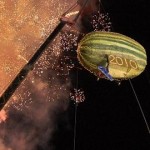 In ZIP Code 47591, 13 locally grown watermelon's will fall from a 500-pound man-made watermelon at the stroke of midnight.  Vincenne's Watermelon Drop in Indiana has music, food, a BBQ cook-off, fireworks and more.
A Cherry will drop in ZIP Code 49684. At this Michigan event you will enjoy live music, a visit from the Coast Guard and other surprises.
If you're not in to fruit, here are some other unique objects being dropped tonight:
No matter what you wind up doing tonight, have a safe and wonderful New Year's Eve!