Are you looking for a great way to drive new and existing customers to your website? Our Store Locator is perfect for that. You can create a locator for just about any location with an address, and it doesn't have to be just for stores.  Use it for distributors/suppliers, dealerships, clubs, churches, etc. The possibilities are endless.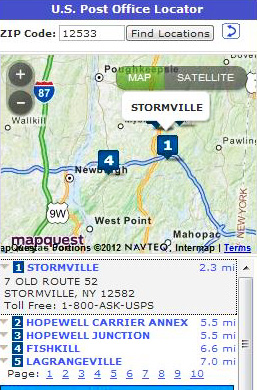 Our Store Locator is simple to use, has many features to offer and there is no software to download.  Some locators have a limit to the amount of stores you can upload, but not ours. There is no limit, whether you are a Free or Premium customer.
Your customers can search for your locations either by entering a ZIP Code or a City & State. I know how frustrating it can be when you enter your location and all you get is a message saying "there are no stores in your area". Your customers will never be frustrated like that! Results will always be displayed, regardless of how far away the customer is.
It's nice to be able to see the locations on a map.  This gives your customer a good idea of how close one store is to the other. They can even get directions to the location if they wanted to.
The Store Locator allows you to change the color and the display, making it easy to blend in with the style of your website. You can add custom data fields such as the stores hours or the name of a website. Premium customers can use their own CSS file for further customization.
The best part is you don't have to be a programmer to get the locator up and running. It's really as easy as setting up an account, uploading your list of stores and then pasting the code to your website.
Why not get started today? You have nothing to lose. Whether you choose to stick with the Free version or upgrade to the Premium, it is guaranteed to help you out.
Dont forget to view the FAQ's on our website!